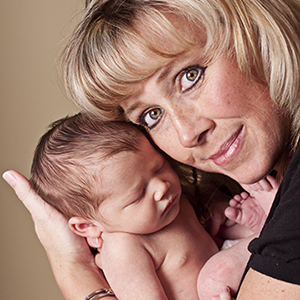 Like many expectant parents given the opportunity to donate their baby's umbilical cord blood to a public cord blood bank, Tonya Beach-Fuller and her husband, Bill, responded with a resounding "yes."
In preparation of their firstborn daughter Jordyn's birth at Fairview Hospital in 2010, the Medina, Ohio couple had been given information about umbilical cord blood donation. The alternative to banking is to discard the umbilical cord at birth.
Around Thanksgiving in November 2017, Beach-Fuller was delighted to receive a call from a nurse at the Cleveland Cord Blood Center, letting her know that her daughter's cord blood was a 100 percent match with a child in need of a cord blood transplant.
Beach-Fuller shared with seven-year-old Jordyn that her cord blood had been donated at her birth and was being used to help save another child's life. Since that initial conversation, the two have occasionally talked about the donation, and that Jordyn will always be a part of the life of the child her cord blood helped save.
Ironically, just one month earlier, Beach-Fuller's sister-in-law had been diagnosed with two types of blood cancer. Following several rounds of chemotherapy, her sister-in-law received a stem cell transplant in February 2018.
"My daughter felt special that she helped save another's life," Beach-Fuller noted. "Now, we're also able to discuss the fact that someone else's stem cells went on to save her aunt's life, making the impact of her own cord blood stem cell donation that much more personal."
Beach-Fuller frequently shares with family and friends who are expecting a baby what a cord blood donation at birth can mean to a person in need of life-giving cord blood stem cells. "I've been very vocal about the fact that my daughter's cord blood went to save someone's life. I'm amazed that something so simple can be such a gift from God to save someone's life.
"Once you've been touched by it, you are personally inspired to share your passion with others," she concluded.