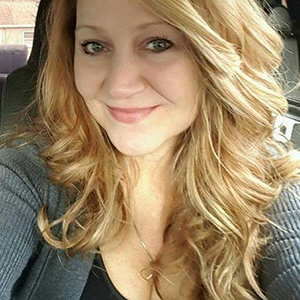 Rochelle Grenier, a 34-year-old single mother of a teenage daughter from Lebanon, Conn., was diagnosed with stage IV Non-Hodgkin's lymphoma in 2003. As other treatment options failed, her doctors searched the bone marrow registries to find that there were no sufficiently matched adult stem cell donors available.
She then learned of a double umbilical cord blood stem cell transplant clinical trial that she ultimately participated in.
On April 26, 2006, the day she received her cord blood transplant, Grenier's friend and mother sang "Happy Birthday" to her in celebration of the next chapter of her life. As she recovered, she found herself craving new foods, such as vegetables, tofu, stir fry and fish, along with having an increased sensitivity to smells – all of which she suspects she may share with her donor. "I now feel younger than my actual age, and have been told that I look younger than my years," which she also attributes to her cord blood transplant.
A business analyst for an IT consulting firm, Grenier passionately encourages expectant mothers to donate their babies' cord blood whenever the opportunity arises. "I am here today because two women were asked to donate their babies' cord blood and two women said 'Yes,'" she declared.
Grenier has come a long way from crocheting blankets during a lengthy hospital stay for grandchildren she wasn't sure she'd ever meet or get to know. She has also realized milestones she wasn't sure that she would ever be a part of – spending time with her two granddaughters; her daughter Sarah's prom; along with her daughter's graduation from high school and college.
"For every mother about to give birth, I like to let them know that when they donate their babies' cord blood, there will be a little piece of their beautiful child helping make an incredible difference in someone else's life…donating can make it possible for someone else to be with their own children as they grow. The most incredible gift you can give someone is the gift of life," she concluded.