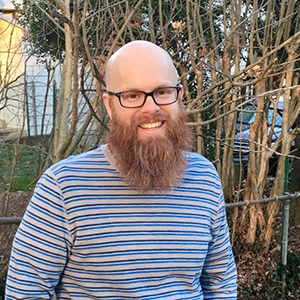 In January 2012, at age 35, Michael Rowe, a happily married father of four, was diagnosed with leukemia. The day after his diagnosis, he began receiving chemotherapy treatments.
During his six months of chemotherapy, his medical team recommended that he consider a bone marrow transplant. However, testing revealed that none of his three siblings were a match, and no matching donors could be found through the national bone marrow registries. Cleveland Cord Blood Center founder and Rowe's physician, Mary Laughlin, M.D., suggested a cord blood transplant.
Cord blood matches were found, and Rowe went on to receive his life-saving transplant.
"I am deeply grateful to the parents who donated the cord blood I received. They didn't know me, but their donation saved my life," Rowe said.
Since the transplant, he has returned to work as a software engineer. He treasures the time he spends with his family—from being involved at his church and vacationing at the beach each summer, to attending his children's swim meets and baseball games and serving on the Board of Trustees at his children's school.
"Every day, babies are born and parents don't realize that their umbilical cords could be used to save the life of another person. The cords are just thrown away. I encourage people having babies to donate. It is a significant opportunity to help someone else, especially someone like me who would not have found a match otherwise," Rowe concluded.