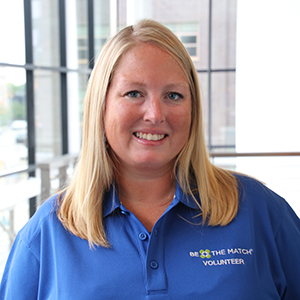 Lisa Maxson was 28-years-old when diagnosed with acute myeloid leukemia.
Following 10 weeks of chemotherapy after her August 2011 diagnosis, the mother of a 5-year-old, a 3-year-old and a 16-month-old was told she would need a bone marrow transplant. When a bone marrow match was unavailable, the search for an umbilical cord blood match began and within a week, two identical cord blood matches were found.
On December 15, the Troy, Ohio, native received a double umbilical cord blood transplant at The James Cancer Hospital at Ohio State University. "I have an amazing husband, Tom, and both sides of the family stepped up to help. Our children also wanted to help, and they were resilient," Maxson said.
"I may never get the chance to meet the two baby girls whose cells are inside me, and I don't know why their parents donated their umbilical cord blood, but I'm so glad they did," she continued. "If it wasn't for the cord blood matches on the registry, I wouldn't be here to cheer on my own children. I can now be there for them as they grow up…and throughout their lives."
She is thankful and considers herself blessed, and now feels that it's time to pay it forward. She and her father launched The Buckeye Be The Match 5K Run/Walk in her hometown of Troy, raising funds and awareness in support of bone marrow and cord blood stem cell donations. In addition, the two were named as Be The Match Ambassadors, in which they reach out to state and national legislators to enlist the support needed for those in need of a transplant.
More recently, she's become a trained courier for the Be The Match program. "I believe that I've received an amazing gift, and it's now my time to give back," she concluded.
Hear Lisa Maxson thank cord blood professionals regarding the tenth anniversary of her "rebirthday."