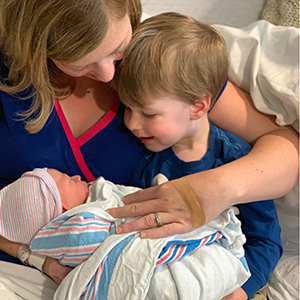 When Brooke Anderson and her husband, Ryan, were preparing to deliver at Hillcrest Hospital, it was their intention to donate their babies' cord blood.
This was not just an act of generosity, but an expression of deep gratitude that her dad, Gail McCullough, Jr. was alive and healthy thanks to the donation of cord blood.
At the births of her oldest son, August, in 2017 and Mack, born in 2019, each baby's cord blood was donated to the public bank, the Cleveland Cord Blood Center where her father's physician, Dr. Mary Laughlin, is founder.
"I'm so glad that Hillcrest Hospital collects cord blood donations because I have seen the amazing results of donation firsthand, as my dad underwent a cord blood transplant that saved his life," said Anderson.
Our son, August's cord blood donation was large enough for a transplant, which I hope will have a similar life-saving ripple effect on another family. Mack's cord blood donation was smaller, and will be used in research, which I hope will have an effect on my children and their families," she noted.
"I can't imagine a world without my Dad!" said Brooke. "My family is so grateful to the wonderful donors whose actions saved his life. I hope our cord blood donations can give the same miracle for another family.
Hear why Brooke Anderson decided to donate her babies' cord blood